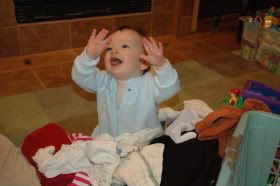 The sickness is spreading... Henry has been up and down over the past several days but just isn't really "better, better" yet. He's in this pattern where he's able to keep everything down but then once within a 24-hour period he suddenly lets loose. Things in his GI tract aren't quite "normal" yet either. He had a bit of up and down last night but has been keeping the pedialtye and formula down since the big eruption right before bed last night. It's just that we spend about 24 hours re-building, small frequent drinks of pedialtye, followed by soy formula, followed by rice cereal, and then perhaps some jello or applesauce. Then somewhere along the way he loses it and we have to start over again. We'll see how today goes. We're watching really closely for signs of dehydration and if we think we see any we'll call the on-call Dr. today. Otherwise i think i might just call the Dr's office on Monday and see what they think. I believe he has an 11-month check-up on so if nothing else he'll see the Dr. then.
Unfortunately our house guest seems to have a touch of Henry's ailment. So everyone is just laying low today trying to recuperate before the week starts again.
There's been a special request to see the enclosed porch on the back of the house, so i'm posting a
bonus picture
of it. The porch is insulated (from below) and has the same high quality new windows as in the rest of the house, so temperatue wise it feels about like the "main house."